Lodging
Lodging options in Yosemite National Park range from simple tent cabins at the High Sierra Camps to deluxe rooms at The Majestic Yosemite Hotel (formerly The Ahwahnee). Visit the Yosemite Hospitality (Aramark) website for full descriptions, prices, and online reservations. Reservations are available 366 days in advance and are strongly recommended, especially from spring through fall and during holidays.
The High Sierra Camps and White Wolf Lodge will not open this year due to record snowpack and lack of access to water for bathrooms and kitchens. Guests with reservations for 2017 have been contacted and offered to move the reservation to 2018 or receive a refund. Tuolumne Meadows Lodge, Grill and Store are scheduled to open for the 2017 season. The health and safety of Yosemite National Park visitors is the park's top priority.
If you can't find lodging through Yosemite Hospitality, consider staying in private lodging: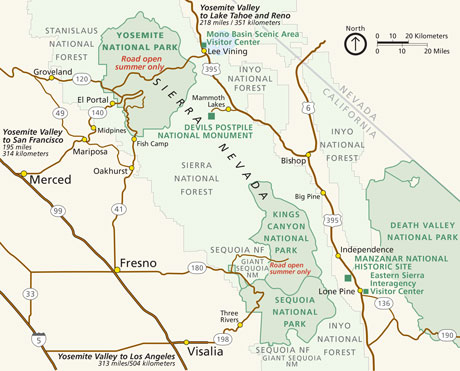 Camping
Yosemite National Park has 13 campgrounds; some are reservable while others operate on a first-come, first-served basis. From about April through October, reservations can be very difficult to get and the first-come, first-served campgrounds often fill up early each day. Learn more about campground reservations, camping without a reservation, details about each campground, camping with an RV, and campground regulations. Information about Yosemite Hospitality's High Sierra Camps is also available.
Recreation.gov lists many campgrounds outside Yosemite. The links to community information above also include camping details for those areas.
Please note that sleeping in your car or RV is not permitted within Yosemite except in individual campsites.
Overnight Hiking in Wilderness
With nearly 95% of Yosemite National Park designated as wilderness, backpacking is also popular (a wilderness permit is required).